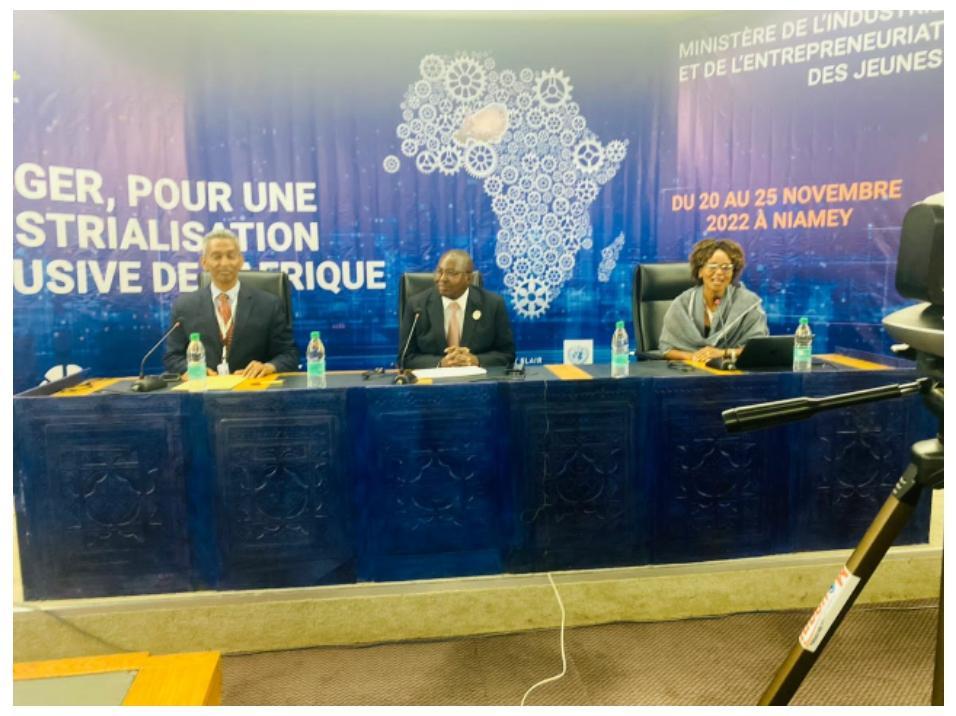 During the 17th African Union Summit on Industrialization and Economic Diversification and the Africa Industrialization Week (AIW2022) that took place in Niamey, Niger, and online from the 20th to 25th November 2022, BIC Africa in collaboration with AeTrade Group, supported by the African Union, has organized a side event on the 23rd of November. At this award ceremony, Beverly Senda, from Kenya and Fela Akinse, Nigeria was announced as the winners of the AU YOUTH PAVILLION BIC Africa-AeTrade Business Idea Challenge.
H.E. Albert M. Muchanga Commissioner for Trade and Industry of the African Union Commission and Mr Mulualem Syoum CEO of AeTrade Group graced the ceremony as special guests and shared the news on the successful completion of the AU YOUTH PAVILLION – BIC Africa AeTrade business idea challenge and presented the certificates to the winners. The winners were awarded a 4000 EURO prize each during the award ceremony.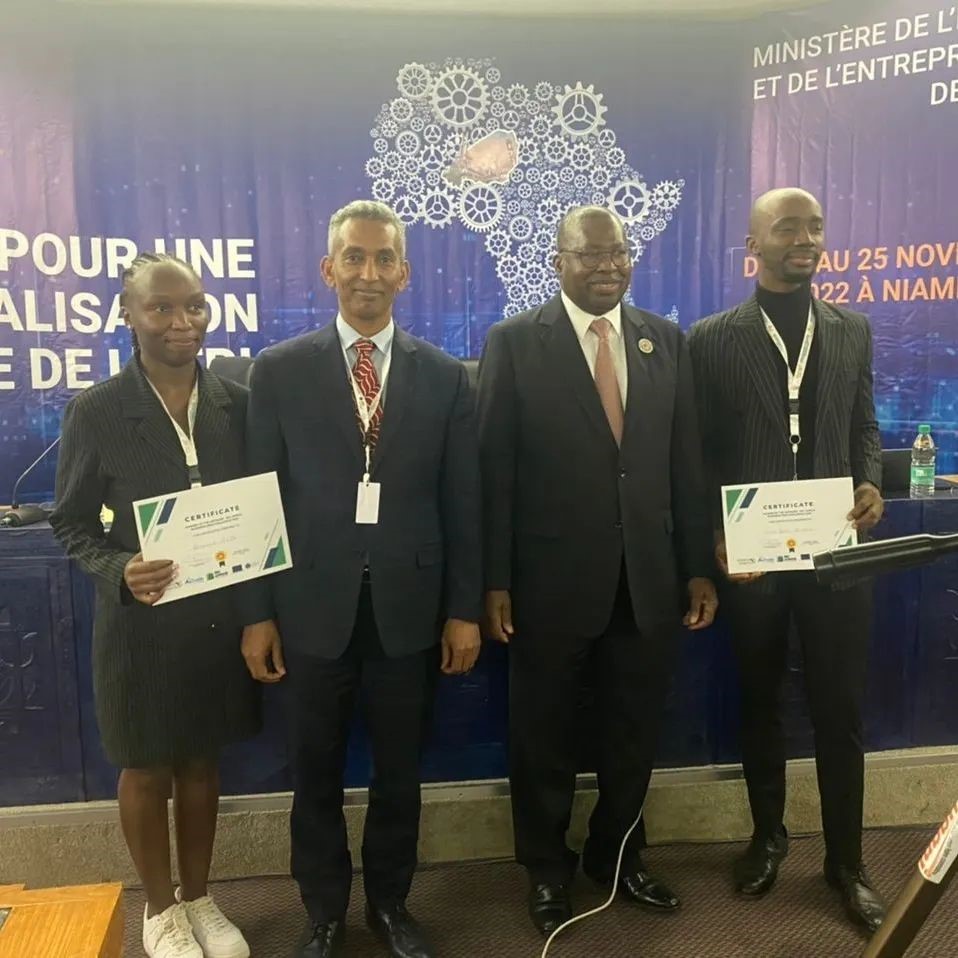 "Pana+Care's purpose is to help bridge the healthcare gap in Kenya by spearheading inclusive digital technology to meet the healthcare needs of most Kenyans. We are passionate about remote care and diagnosis so you never have to worry about your health. The funding will aid in catering for the operational expenses that are part of the execution of the project to each segment in Kenya. I really appreciate the faith of BIC Africa and Aetrade in the solution and the support provided." said Bevely Senda 
Beverly Senda is the founder of Pana+Care. Pana+care's purpose is to help bridge the healthcare gap in Africa by spearheading inclusive digital technology to meet the healthcare needs of most Africans. They are passionate about remote care and diagnosis so that citizens never have to worry about health.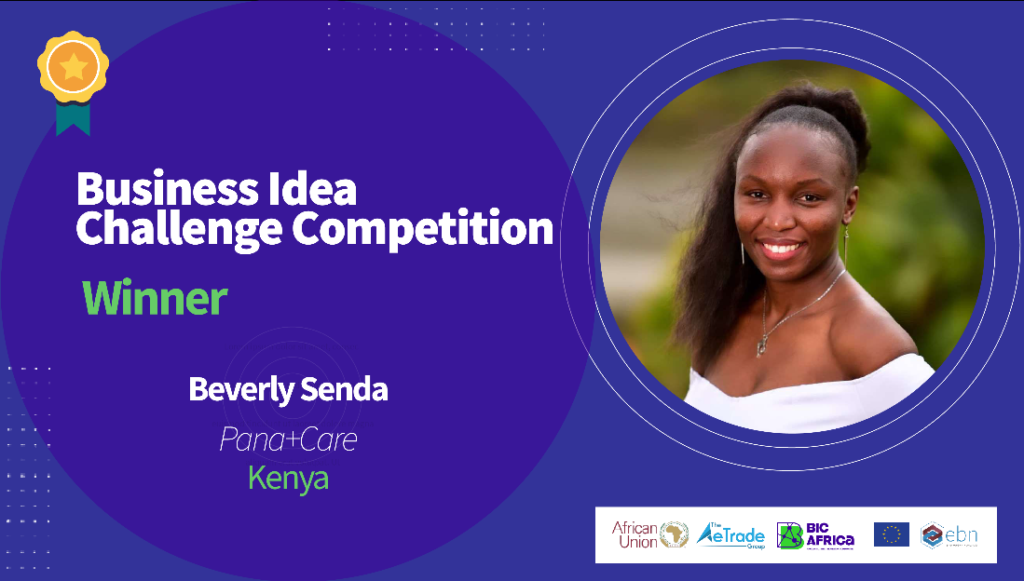 "Go to the caverns and ask the stalagmites and see how consistency bore holes in rocks" – Fela Buyi" said Fela Akinse founder of the SALUBATA, At Salubata, our mission is to invent lifestyle technologies that help people and the planet. We presently occupy a niche where we repurpose shoes from ocean-deemed plastic wastes. Our near goal is to reach a critical mass of 1 million shoes made from plastic waste per annum, collect these shoes and then recycle them back into other shoes; thus attaining a closed loop system where zero waste escapes.
We believe this award will create a potential opportunity to enable us and would be an avenue to network with potential industry experts to help drive sustainable business strategies for my team and I. This opportunity would give us a chance to reach our potential in creating a long-lasting legacy which would help dent a colossal impacts in the global business space. 
Fela is a multi-award winning entrepreneur and inventor; a graduate of the University of Lagos with a Bachelors and Master's degree (Distinction) in Environmental Toxicology & Pollution Management. Having resigned as a business analyst and an environmental scientist, he founded the cleantech company, SALUBATA. He has been invited to speak at numerous events including such as ChangeNow Global Conference 2021, Circularity 20, Princeton Africa Summit (2021), Waves of Change 2021 (Ekosea), TEDx, Junior Chambers International amidst many others. He currently owns a patent for making modular shoes from recycled plastic waste. As the founder of Salubata, he has built the organisation to have footprints in over 32 countries. He believes that the company's modular shoes, made from recyclables, could help stamp out significant plastic waste.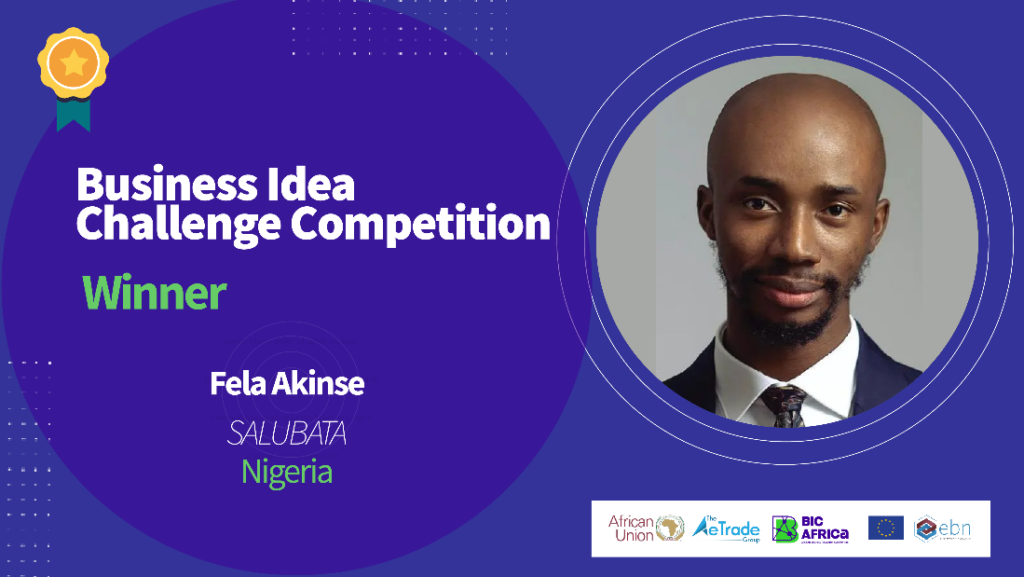 The BIC Africa and AeTrade Group have entered into a partnership to support and accelerate the most promising youth-led African start-ups, in a bid to foster the growth of businesses that are solving critical challenges faced by communities across Africa, inspire job creation and facilitate inclusive economic development.
Within this context, the business idea challenge took place with 71 participants from different African countries. After a rigorous process, 30 founders were shortlisted based on regional and gender representation, experience, business growth and business modalities and 10 finalists from 9 countries selected were selected for the final pitching competition. The jury, made up of experts and other stakeholders from across different sectors of the industry, finally decided on the 2 winners with the most promising start-ups led by youth. More than 4900 applications from 51 African countries submitted their ideas to the initial call via the online application and 150 were awarded from 41 to attend the Intra African Trade Fair in Durban in 2021.
The closing ceremony was organized to recognize not only the winners but also all young aspiring innovators, and also to provide them guidance in their entrepreneurial journey, said Mr Robert Sanders, Team Leader of BIC Africa at EBN.   
The event was presided over by Ms.Treasure Maphanga, COO at AeTrade Group.
Congratulations to the winners of the AU YOUTH PAVILLION BIC Africa- AeTrade business idea challenge!