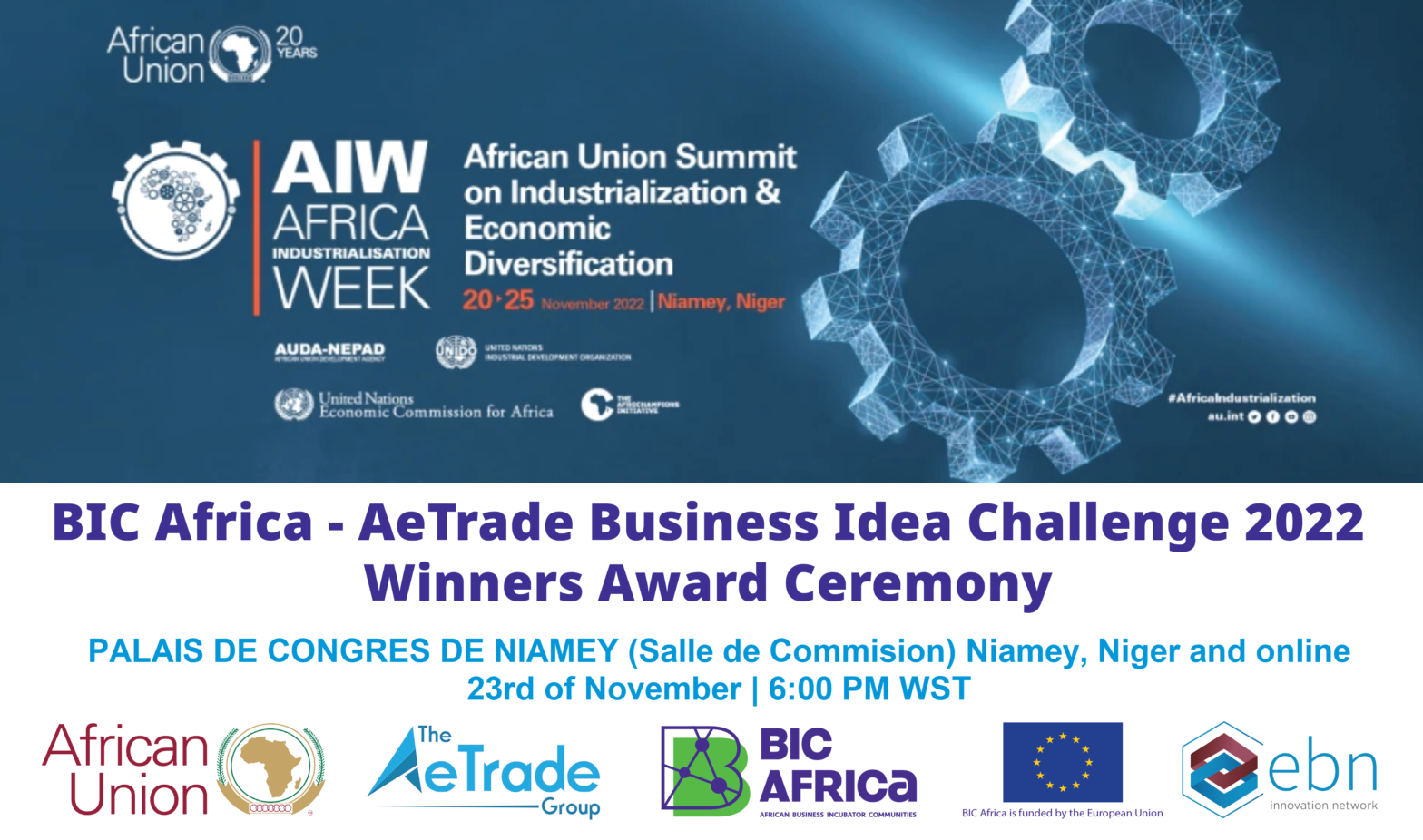 The 17th African Union Summit on Industrialization and Economic Diversification and the Africa Industrialization Week (AIW2022)will take place in Niamey, Niger, and online from the 20th to 25th November 2022, convened under the theme "Industrializing Africa: Renewed commitment towards an Inclusive and Sustainable Industrialization and Economic Diversification".
BIC Africa in collaboration with AeTrade Group, supported by the African Union, has organised a side event on the 23rd of November at the PALAIS DE CONGRES DE NIAMEY (Salle de Commision) and online via ZOOM, and will award the two winners of the BIC Africa-AeTrade Business Idea Challenge.
The AeTrade Group and BIC Africa have entered into a partnership to support and accelerate the most promising youth-led African start-ups, in a bid to foster the growth of businesses that are solving critical challenges faced by communities across Africa, inspire job creation and facilitate inclusive economic development.
Within this context, the business idea challenge took place with 71 participants from different African countries. After a rigorous process, 30 founders were shortlisted based on regional and gender representation, experience, business growth and business modalities and 10 finalists from 9 countries selected were selected for the final pitching competition. The jury, made up of experts and other stakeholders from across different sectors of the industry, finally decided on the 2 winners with the most promising start-ups led by youth. The winners will be awarded a 4 000 EUR cash prize each during the award ceremony.
More than 4900 applications from 51 African countries submitted their ideas to the initial call via the online application and 150 were awarded from 41 to attend the Intra African Trade Fair in Durban in 2021.
Register by clicking here to join online
Learn more about the Africa Industrialization Week here