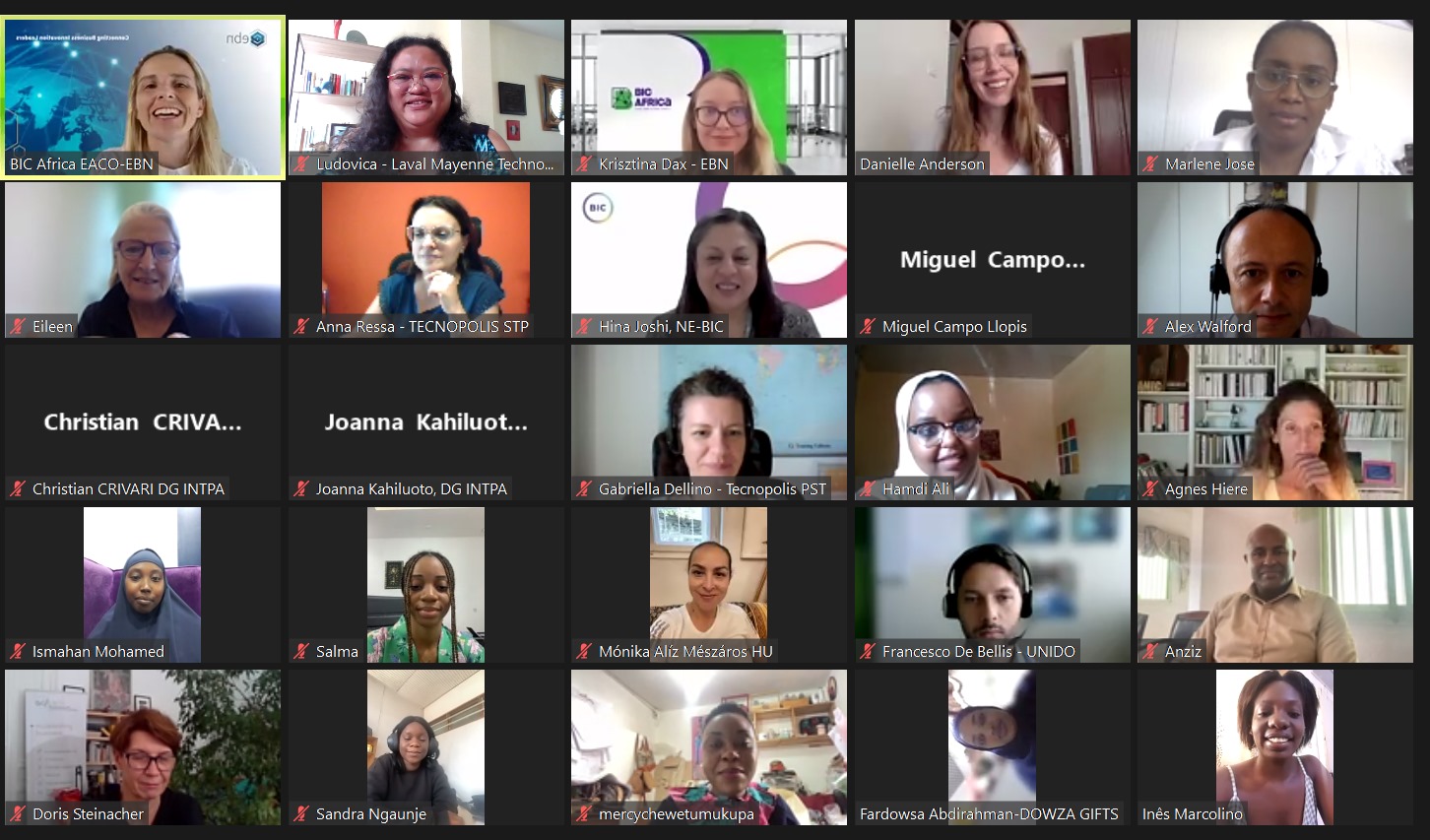 On the 12th of September, we wrapped up the BIC Africa Acceleration programme for women entrepreneurs 3rd cohort with an online event.
Under this year's cohort, we supported 20 innovative women entrepreneurs from eleven countries out of which 14 entrepreneurs from BIC Africa target countries (Angola, Comoros, Ethiopia, Madagascar and Somalia) and 6 others from Kenya, Nigeria, Malawi, Rwanda, South Africa and Zambia operating in various sectors and at different business stages.
This year's programme kicked off on the 16th of May 2023 and ran for 15 weeks with a combination of tailored 6 online training modules, 4 high-quality coaching sessions, individual exercises, and a peer mentoring programme, to upgrade their business skills.
The programme aimed at helping entrepreneurs with their entrepreneurial and business leadership skills to overcome the challenges they face. The programme also connects them with experienced startups and business experts and exposes them to a variety of perspectives on running and growing their business, and best practices to refine their day-to-day business operation skills and unlock their business potential for scaling trajectory and fundraising for their startups. 
BIC Africa Acceleration programme for women entrepreneurs has been a game-changer for me. I entered with just an idea, and I've not only gained valuable knowledge but have also developed a well-structured business plan, all thanks to the invaluable support and mentorship provided. I'm excited about the journey ahead! 

Ismahan Mohamed, Co-Founder of Som Art Academy from Somalia 
I learned a lot from the sessions and had an amazing engagement with my mentor. The BIC Africa Acceleration programme for women entrepreneurs was my first accelerator program of any kind and got a lot more confidence with each session. I would like to thank all the facilitators for creating a safe and welcoming environment. 

Sandra Ngaunje, Owner and Managing Director of SA & M Drugstores from Malawi 
The women entrepreneurs who have successfully completed the 15-week acceleration programme are now well-positioned to advance in their business, thanks to their dedication.
Congratulations to these amazing women entrepreneurs and best of luck on the journey to scale their ventures and impact their communities with innovative and sustainable solutions.  At BIC Africa, we acknowledge entrepreneurship as a powerful tool for boosting local economies. However, the journey of becoming a female entrepreneur can be difficult and challenging. Therefore, supporting women entrepreneurs is very important. The BIC Africa Acceleration Programme for Women Entrepreneurs is designed to boost the role of women entrepreneurs by supporting them in building and scaling their businesses to the next level, and we are very proud to provide selected women entrepreneurs with the necessary support to build and scale their business to the next level to quickly amplify their businesses' growth and sustainability, and eventually support the achievement of the SDGs in Africa. 
"Participating in the BIC Africa acceleration program was transformative. It empowered our team, enhanced our business strategies, and accelerated our growth. Grateful for the exciting results achieved.

Anazra Mohamed, Founder of Comoros Moringa from Comoros 
Learned a lot from the two mentees I've worked with.  Their determination and drive is just so inspirational. Their commitment to grow and inspire others is a credit to them.  Great to see how all the entrepreneurs have grown over the last 4 months.

Hina Joshi, North East-BIC 
We celebrate this incredible achievement, and we'll continue to work with these entrepreneurs and the experts towards helping women-owned or led businesses create more opportunities.
Since its inception in 2021, the BIC Africa acceleration programme has helped 50 innovative women entrepreneurs, including this year's cohort, and many of these women entrepreneurs who completed the acceleration programme have promptly been able to improve their business operations and even secure funding right after completion of the programme.
The Acceleration Programme is possible through a partnership between the European Union and EBN. Finally, a heartfelt gratitude to those who were part of this journey, most importantly to the coaches and the mentors from Africa and Europe for their relentless support to this cohort.
Learn more about this year's cohort: Here