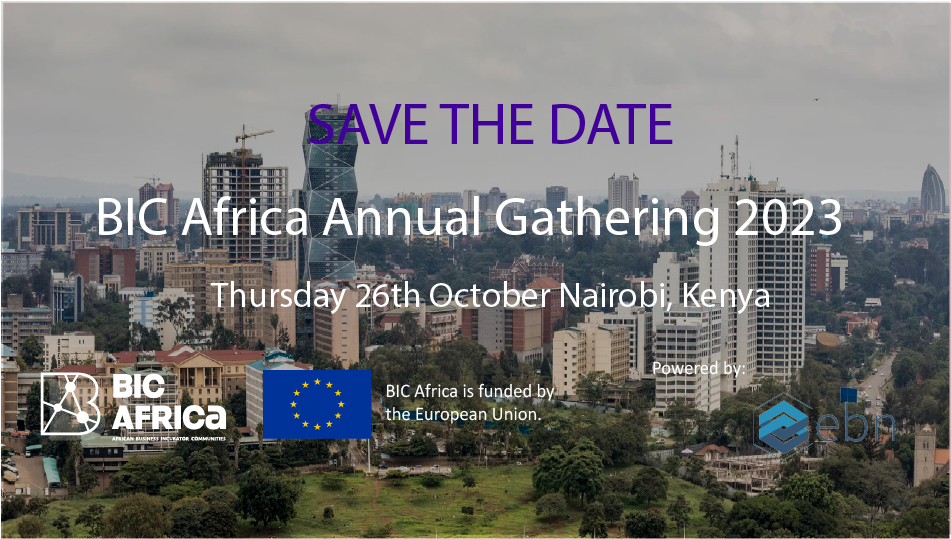 🌍 Exciting Announcement:  Save the Date for the BIC Africa Annual Gathering 2023 on Thursday 26th October, in-person in Nairobi, Kenya! 
The 2nd edition of BIC Africa's Annual Gathering 2023 (#BICAfrica2023) will take place on Thursday 26th October in-person in Nairobi, Kenya. The theme for this year's gathering is "Promoting shared learning, Driving innovative startups!". This year's event, co-hosted by BIC Somali, will bring together policy-makers, business incubator managers, entrepreneurs, and business incubation experts from the 5 BIC Africa project countries (Angola, Comoros, Ethiopia, Madagascar and Somalia), and also participants from Kenya and Europe, with a special focus on the Somali ecosystem.  
The first edition of the BIC Africa Annual Gathering (#BICAfrica2022) was held in Addis Ababa, Ethiopia in November 2022, and brought together over 100 participants from the innovation and startup community and facilitated networking and dialogue between entrepreneurs, startups, and private and public sector innovation ecosystem representatives from Africa and Europe. 
Click here to read more.
Stay tuned for updates and Registration opening soon!  
More information: 
Do you have any questions about the event? 
Email us at: hello@bic-africa.eu 
For updates and more information on BIC Africa, check out our website and follow us on our social media channels: