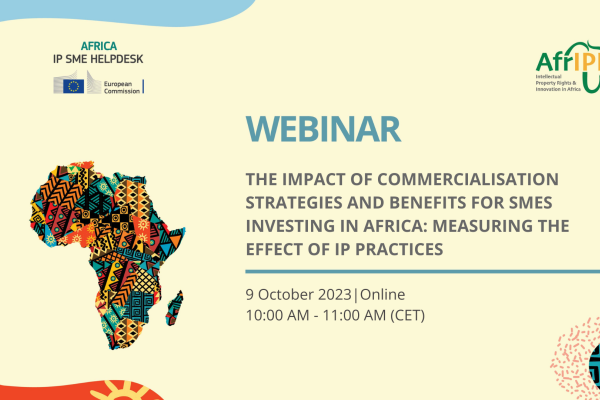 The impact of commercialisation strategies and benefits for SMEs investing in Africa: measuring the effect of IP practices
On 9 October 2023, a webinar outlining the business benefits of combining commercialisation and IP protection strategies in the African context will be organised by the Africa IP SME Helpdesk.
The combination of effective commercialisation strategies and strong IP practices can help SMEs in Africa enhance their competitiveness, drive innovation, and achieve sustainable growth in local and global markets. Properly protected IP assets can give SMEs a competitive edge by preventing competitors from copying their products, designs, or branding.
intellectual property | business management

Monday 9 October 2023, 10:00 – 11:00 (CEST)
Practical information
When

Monday 9 October 2023, 10:00 – 11:00 (CEST)

Languages

English
Description
Event Details:
Date: 9 October 2023
Time: 10:00-11:00 (CEST), 11:00 -12:00 (EEST, GMT+3 – Cairo time)
Platform: Zoom
Registration: Registration link
The Africa IP SME Helpdesk will organise a webinar guide them through the process of assessing their IP assets, identifying areas of vulnerability, and developing a plan to protect their creations and innovations, with the goal of boosting their commerce across the African continent. The aim is to raise awareness on the importance of being advised by legal experts who can provide the solutions to overcome challenging situations at the moment of protecting IP rights of a small or medium business willing to invested in a multifaceted environment such as Africa.